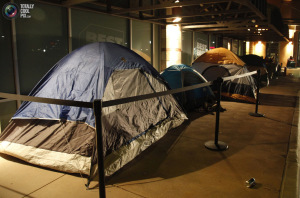 Reinforced by a great article in NewYork , we know that Real Estate Brokers generally think (and tell their clients): "If you're looking to buy for a bargain, then start buying in November and stop buying end of February. When sellers see very few showings or very few people attending an open house, then a buyer can put in a low offer and it will get accepted,"   The article goes on to suggest that " sellers, too, can benefit from a reduced marketplace as well, especially if theirs is the only type of home on the market in that particular area."
However, if you're still looking for a buyer, now IS the time to panic.  If you don't do something immediately, then you will be low-balled or black-balled and neither one helps you move on in a good way.  What to do?
Something Bold.
Be honest with yourself. Too much furniture? Take 90% out, and leave only the "mod" pieces. So long as they are in mint condition.
Bright color.  You want your frame to be neutral, but not necessarily beige. We have done very well this year with a pale gray or taupe as our neutral and then amped up the space with bright teal, or red, or yellow.
Different art.  When you sell your property, the bigger, stronger pieces make more of a statement. You only need one on a large wall, and you'll find the whole space looks and feel hipper, edgier and more inviting. Counterintuitive? Yeah, but it works.
Something Soft and Fluffy
A pillow
A rug
A throw
Winter's coming, nights are drawing in, and people are naturally nesting in for the colder weather. Just a touch of fluff will give you a texture and an invitation to snuggle. That's all you need.
Reshoot
 Have your photog take more intimate shots as part of the montage that is uploaded to Street Easy and the Broker's webpage.  The wide angle lens is not sexy; it does not add warmth or sensuality to the room. While I understand that buyers needs to see the breadth of the space, adding a few intimate close-ups will make the listing more attractive and memorable.
Look at the photos for some of the new builds in your neighborhood. What are you competing against?  Notice if the photos are stylized at all, and how the tint is just a little bit "more" than the space would look in real life. Do the same. Personally, I'm finding that grayer, cooler photos are looking more on trend than the yellow tones of the Pottery Barn Thanksgiving catalogue. Think: Restoration Hardware.
Lastly, do NOT reduce the price. Fix the value.  If you haven't sold your house already, don't immediately take a precipitous hair cut to make your broker's life easier. Get hold of a stager and see what can be done to better tell the story of how your space works.  And hurry!
It's not only Black Friday that coming, but the blackout time of New York City Real Estate season. Btw, I'm at 917-428-3965, but not for long: I host Thanksgiving.  As you might imagine with an Italian hostess, it's a non-stop feast!
________________________________________
Thanks to TotallyCoolPix.com for the use of their photo.