This glorious owner occupied townhouse in Crown Heights Brooklyn will come to market in 2 weeks.  Keep in mind, this home is owner occupied, so our staging had to be easy to maintain while allowing the spectacular architectural detail to shine.  Sun-bleached curtains were replaced with flowing white sheers to allow the stained glass windows to be a focal point.
We removed the micro-suede, over-sized and worn-out sectional, replacing it with the sleek modern contemporary Corbusier white leather sofas and a Nogucci cocktail table.  The large rug anchors the space and all of the soft tones allow the main attraction to be the mahogany stained fireplace, woodwork and lattice trim.  We did an edit and rearrange of art and accents to create a room that is all about . . . . . THE ROOM!  Gorgeous!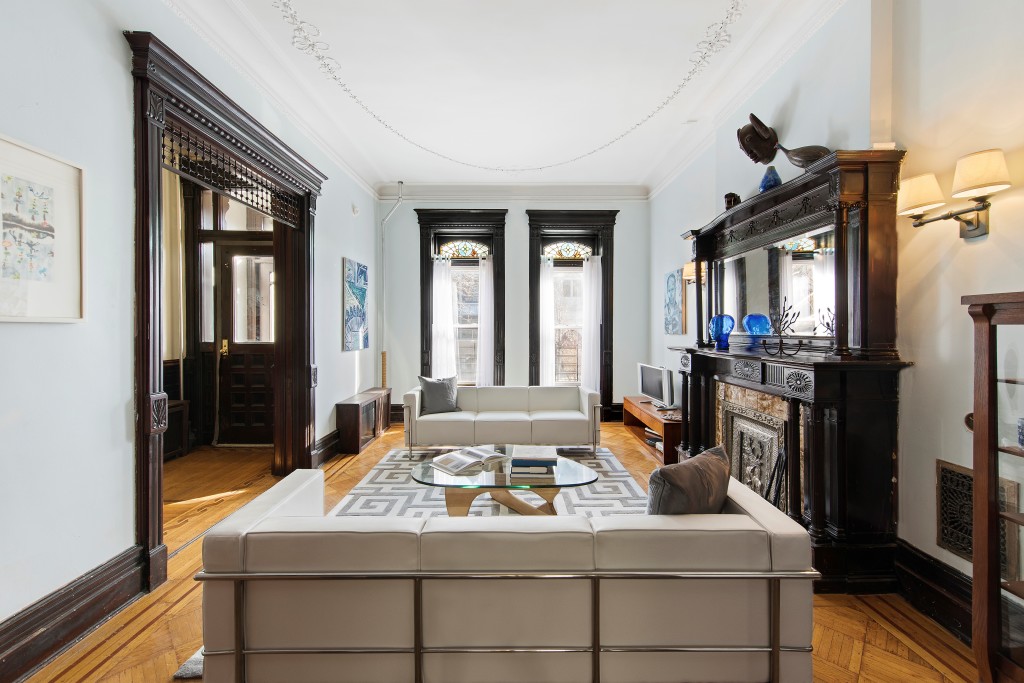 White sheers are the perfect dressing for the windows.  Now the windows are all about the beautiful dentil and fluted trim and inlays that surround the 2 windows facing the street …. and the stained glass!
Oh, by the way, check out the original  plaster work on the ceiling. Stunning!
_______________________________________
For ideas on how to stage your owner occupied NYC home for sale, please email me.
_______________________________________
Corbusier Sofas – From the man who said that "Chairs are architecture, sofas are bourgeois" how come his white leather sofas are so very NOT bourgeois but the height of chic and style? The pieces feel eternally modern, and have long come to epitomize "International Style". They are hardly modern in reality, having been designed circa 1928 – 1930. Le Corbusier drew inspiration for his designs from the Fibonacci Sequence.  The pieces are thought to be sublimely comfortable.
"Authentic Classics never stop telling the future".