"Lifestyle Marketing consists of segmenting a complex market into niche subdivisions based on interests, attitudes, and beliefs.  This marketing technique creates an enthusiastic and loyal consumer-base and establishes the brand as a valuable part of the consumer's everyday life."

Similar Terms:  – Lifestyle Segmentation, Cultural Marketing
 When designing a model unit, there are two choices: home staging or lifestyle marketing. Home staging is like a spray shot  – creating a "generic" space that would appeal to the widest number of potential buyers, in a similar vibe to Pottery Barn, West Elm  and Williams Sonoma.  Home staging keeps a careful distance from trends and specificity of any kind; the goal is to be the most classic and "evergreen" as possible.
Lifestyle marketing, on the other hand, picks up on the voyeurism in human nature and creates something deliberate, something specific. A space is customized to an aspiration  or ideal of the potential/target buyer .  Usually that ideal is a combination of career, hobbies, and trends.  Of course, there is the chance that one person's image of a hip, tech multi-millionaire is not at all the same as another's.  A seasoned Lifetsyle Marketing professional knows the limits and will not push the envelope too far with the lifestyle elements.  In New York City real estate, especially in Brooklyn where the market is hotter than hot, there is considerable money on the line – both in sales and in rentals.  It is important to get it right.  Sometimes that means adding a little quirky fun to a design, but only if it speaks the language of the target demographic.  The goal: making the property memorable as well as enviable.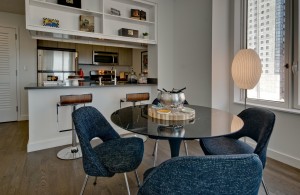 With this 2 bedroom, we added a fondue set at the dining table. What better way to tempt children to eat fruits and veggies than to make it fun with fondue?  Especially now that Cookie Monster is Veggie Monster!
__________________________
To have one of the designers at Amazing Space NYC
design your model units, please call 917-428-3965
and ask for Debbie.