In an article for housingwire.com, Megan Hopkins tells readers how the services of home staging professionals may be beneficial to someone selling their home:
Home staging professionals discovered a unique way of marketing themselves in the fluctuating real estate environment by reminding home sellers that properties sell much faster after undergoing a professional facelift.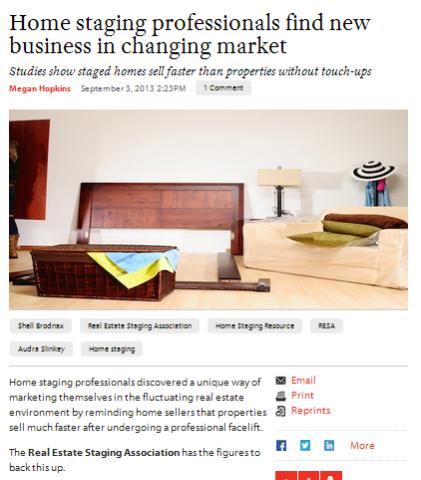 The Real Estate Staging Association has the figures to back this up.
In a recent study conducted by the trade association, 89 vacant occupied and un-staged homes were listed. These homes spent an average of 166 days on the market. However, when these exact same homes were professionally staged and relisted, they only spent an average of 32 days on the market — a 73% decrease in time spent on the market.
The study conducted by the Real Estate Staging Association not only points to the effectiveness of home staging in facilitating home sales. It also highlights how home staging works in various market conditions. As the article says, "In a slow market, staging can make a house stand out and sell. However, in a hot housing market, where things are more competitive, those properties are getting attention and often bringing in multiple offers."
Along with the rest of the country, the New York City real estate market conditions have recently been seeing a rebound from the lows of four or five years ago. This, combined with the city's prime location, makes for a current hot market where sellers can take full advantage of high demands by improving their properties' market values. Any real estate broker who wants to have the edge over the competition will do well to partner with NYC home staging experts, such as those behind Amazing Space NYC, who have the skill and expertise to transform a home from average to extraordinary.
Experts say home staging may be done by anyone who has an understanding of what property buyers may be looking for. Basic home staging techniques such as getting the home organized, letting in more light, and cleaning may indeed seem simple enough for amateurs; however, in a highly competitive arena like New York City, the smart real estate broker would know that the basics are just not enough to cut through the competition. Effective New York home staging is one that sees through the eyes of the buyer, but understands the limitations of the seller, and can strike a beautiful and profitable balance between the two.
(Article Excerpt and Image from Home staging professionals find new business in changing market, http://www.housingwire.com, Sept. 3, 2013)