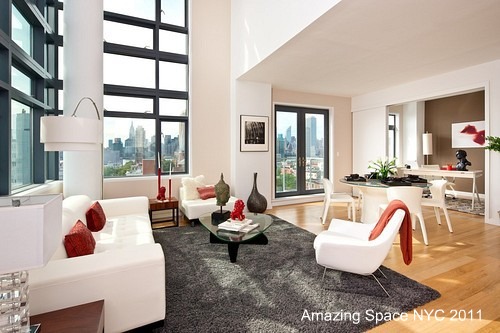 Model Designs
"When love and skill work together, expect a masterpiece." – John Ruskin
Our approach to model designs is one that allows our interior design education and experience to shine. The psycho-graphics and lifestyle trends of the development are carefully evaluated when building the model's design plan. Each development is built upon a certain set of standards and philosophies that define the structure, the interior and exterior decor and the lifestyle visions.
Our design plan for the model units carries that strategy into the model unit we create. Working directly with the marketing, creative and development team, we build a model unit that reflects the building, its neighborhood and the target buying demographic while incorporating subtle hints of aspiration.
The results: photographs and marketing materials that capture the attention of prospective buyers and allow the Sales and Marketing professionals to convert these prospects into purchasers. Amazing Space NYC has successfully staged models for new condominium developments in Brooklyn, Long Island City and Manhattan, models that led to increased traffic and expedient sell-out rates.
Generally, we purchase the furnishings, art and accessories when building a model unit. One might think that this allows our team to truly design the rooms, to add statement pieces that appear tailored for that particular space. But what happens when that line of units sells out (as a result of our beautiful model) and the developer is left with units that do not have the same dimensions, views or demographic profiles and furnishings that do not fit? Models design by Amazing Space NYC take into consideration that a developer needs to move the pieces from unit to unit, line to line, floor to floor. We recognize that the furnishings need to be repurposed and have successfully built new models within a development using our original purchases.
Here is a lobby we designed in one of the buildings where we did the models ~