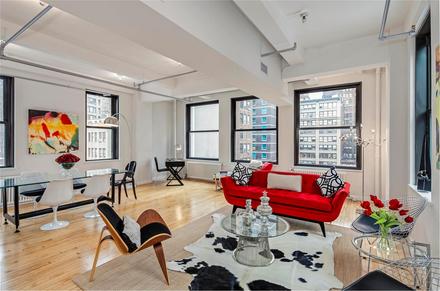 Red – it is alluring and seductive, evoking feelings of hunger and passion. But is it appropriate for Home Staging? Those formal dining rooms and accent walls painted in candy apple, crimson or cranberry certainly are vivacious and alluring, but when Staging a property for sale, do those dramatic walls add value or cause buyers to run in the opposite direction?
When combined with the right furnishings and accent colors, red is extremely elegant. From a designer's vantage point, I love red – especially when it is high gloss and lacquered.  And there is no reason why those same techniques cannot be incorporated into a staging plan, in the form of picture, art or mirror frames, trays, or small appliances (think retro toaster or ice cream soda maker).  Red in accent pillows and artwork are also great ways to seduce a buyer into a room.
Subtle hints of red in the furniture and accessories makes it pop – pop – pop!  We want the buyers to be moved emotionally, to be spurred to action.  Action to make an offer.  Red is a great color to inspire such action.
For more information about booking Amazing Space NYC for your own home staging, please call Debbie at 917-428-3965.