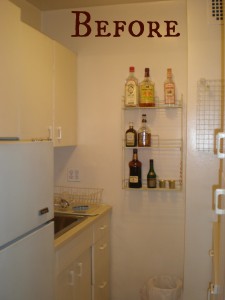 Well, in this case, the kitchen sink actually did have to go! LOL This is an amazing Home Staging New York Case Study. Often we do not have such clear numbers to pinpoint success solely based on the staging.  This is one I'm particularly proud of!
When we were hired to stage this one bedroom co-op, we knew that most of the budget needed to be focused on the kitchen.  Kitchen s and bathrooms can make or break a sale, and this kitchen was definitely a deal-breaker.   Metal cabinets with plastic handles.  Yellow formica counter tops.  White appliances.  Poor lighting.  And no stove!
The target demographic buying groups for this unit were a couple who would use the apartment as a pied-a-terre or a first-time buyer.   We knew we had to present a clean,move-in ready canvas to satisfy the needs of these two buyers profiles.   The 7′ wide by 8′ long kitchen space was gutted and we designed a clean, updated kitchen plan that incorporated carrera marble counters, white cabinets, stainless steel appliances, new lighting and 12 x 24 inch floor tiles that we ran lengthwise to make the room feel larger.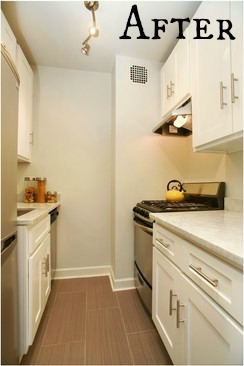 The seller invested $50,000 in the Staging Design Plan for this property (which included the kitchen renovation, updating the bathrooms, removing wallpaper and skim-coasting the walls, removing window treatments, adding radiator cabinets with bookshelves and adding furniture and lifestyle accessories).  The real estate broker increased the list price of the property by $100,00 after the staging was completed.
At the first open house, he received 3 offers, 2 at full ask.  Our staging resulted in an immediate sale and an additional $50,000 in the buyer's pocket.