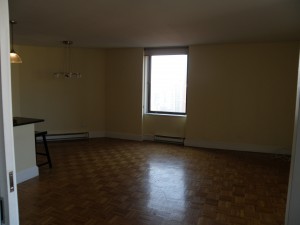 A new paint color, a thorough cleaning and a simple, but effective, Staging Design by Amazing Space NYC and this one bedroom condo on the Upper East side sold in ONE day at full ask,  with multiple offers and a bidding war.
One bedroom condos are a dime a dozen in New York City. The post-war units tend to all look alike.  A single window, the parquet floors, the open plan… it's a common look.  How to make this one stand out? How do we create a memorable event that will capture the buyer's attention and elicit offers?
This before photo is a bit dark, but you can see the whole space is awkaward… and yellow.  ASNYC approached this space as we do every property: we identify the target buyer, renovate as much as the budget allows,  deep-clean the rooms and then illustrate how the next buyer can advantage of what's there.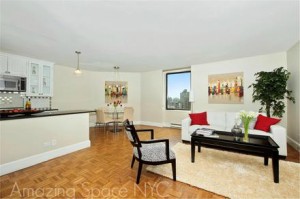 A fresh coat of Elmira White HC-84 provided the perfect backdrop for a combination of contrasting furniture and large pieces of dramatic artwork.  Since red is a color that traditionally spurs people to action, touches of red were incorporated to add punch and purpose.  The staging design plan created the "wow" effect we consistently strive for, which then led to several buyers having the "I gotta have it" reaction.  We just love when that happens!
Multiple offers and a bidding war that resulted in an accepted offer heads above the ask price.  It's fun to be able to report such an amazing success!
For your own potential success story, please call 917-428-3965 and ask for lead designer, Debbie.