Yes, it's back! Un-lacquered brass (some vendors are calling it "satin brass", "antique brass" and somewhat obviously, non-lacquered brass) is  considered to be a solid contender for the people who are "been, done that" about nickel and chrome. The theory is that brass is warmer and more elegant than its silver metal counterparts. It advances the appeal of the industrial decor revolution because  there's little to no shine. And based on usage, each piece will tarnish and "age" differently.
"Everybody wants it!" reports Lauren Henry of Davis and Warshow a wholesale plumbing supply supplier to designers, architects, homeowners in New York City since 1925. "It's been crazy; everybody for the last couple of months, maybe a year even. And they're using it everywhere for everything – faucets, full bathrooms, kitchens, everything!"
Why?
"They like the way it tarnishes. Well, they like the idea of how it will tarnish. Most don't seem to like the way it really does," Lauren chuckled.
In this contemporary bathroom above,  the style comes from clever sleek combinations.  The matte black is a silestone surface called Tao in suede finish.  The oval mosaic sink is wide enough for a couple to share and beautifully echoes the oval tub. A sumptuous brass rain head in the shower satisfies the most lascivious aesthete; the views? Well, if I had to guess I'd say this photo was taken in NYC looking out at onto the West 70s somewhere.
Where are you with brass?
Suppliers like Samuel Heath and Barber Wilson are all jumping on the trend.  Here is just the traditional suite from Watermark, the Brooklyn manufacturer that Manhattanites yearn for —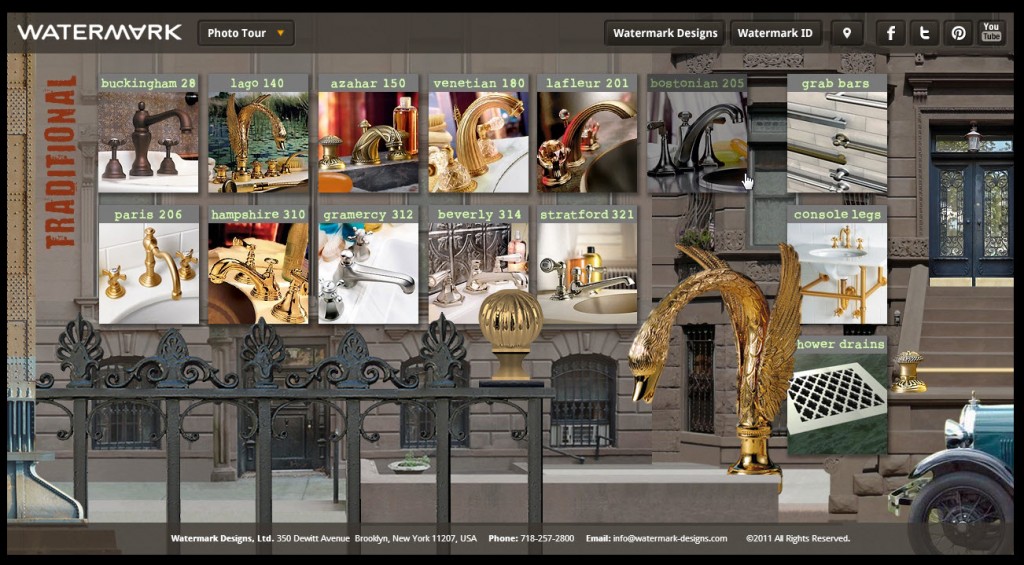 Can you believe that swan, in your grandmother's house in Florida, could possibly become the biggest trend… again!!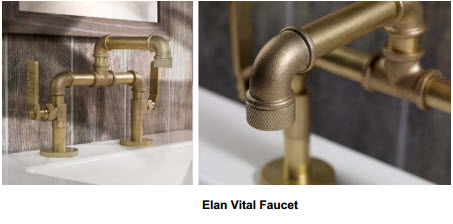 For interior design and home staging, please call Amazing Space NYC lead designer, Debbie Oulvey at 917-428-3965.