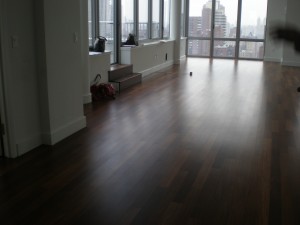 How do you stage a property when it is all about endless views? Surely anything you do, would distract from the biggest asset – the view? This is just one of many factors we take into account as we set about home staging New York.  This property presented such a challenge.
You see, when a property is anticipated to attract significant attention from foreign investors and/or buyers, the real estate team might consider staging the property only for marketing photographs and video footage, but not for showings.  Because of our Interior Design background, Amazing Space NYC is often hired to handle this type of project.  We are in and out of the space in a matter of 2 days!
Such was the case with an Upper East Side condominium development that offered several Penthouse Units with panoramic views of the East River and midtown.  Our accent color was inspired by the sky that stretched out from every window.  By creating distinct seating areas in the living room, we successfully eliminated its unappealing bowling alley shape.  Shades of blue were incorporated in accent pillows, rugs, throws, artwork and accessories.
The result: a spacious, elegant entertaining space that offers multiple areas for conversation and endless views.
Home Staging New York with Endless Views…such a treat! This was just one of the many jobs we absolutely loved working on!
For a consultation on your property for sale, please contact our lead designer, Debbie Oulvey – an expert in home staging New York – at Amazing Space NYC 917-428-3965