Apartment Staging is not so different from home staging, but there's a knack to it.  Like so many of the successful home staging principles, the key is to try and match the style and layout to fit the needs of your target buying demographic.  I'm sharing this particular listing, though there have been many this season, because this apartment staging illustrated a tenet I hold close – When staging an occupied apartment, you do not always have to move everything out and start again.
Often the buyer of a property will be a version of the current owner and is attracted to the finishes and style that have been already implemented in the residence.  How the owner has made the apartment a home, if it has been any length of time at all, can often indicate a good use of space.  And, frankly, just as often not.  The key is in the compromise and elevation – to highest and best use!
Second Bedroom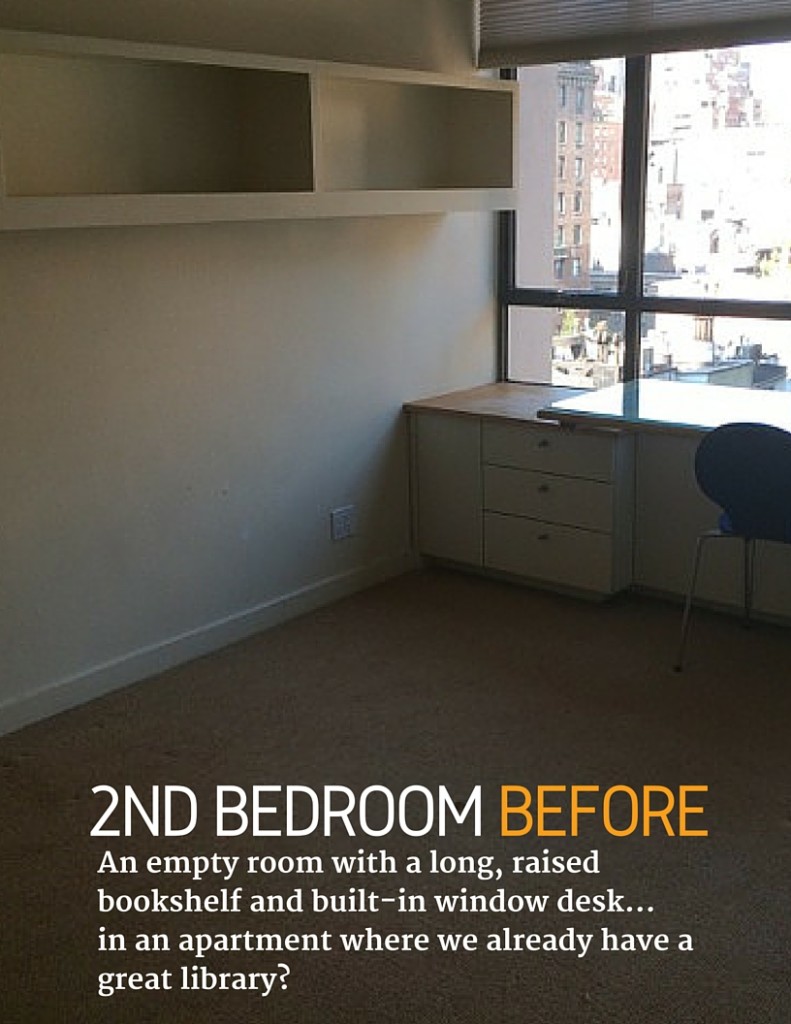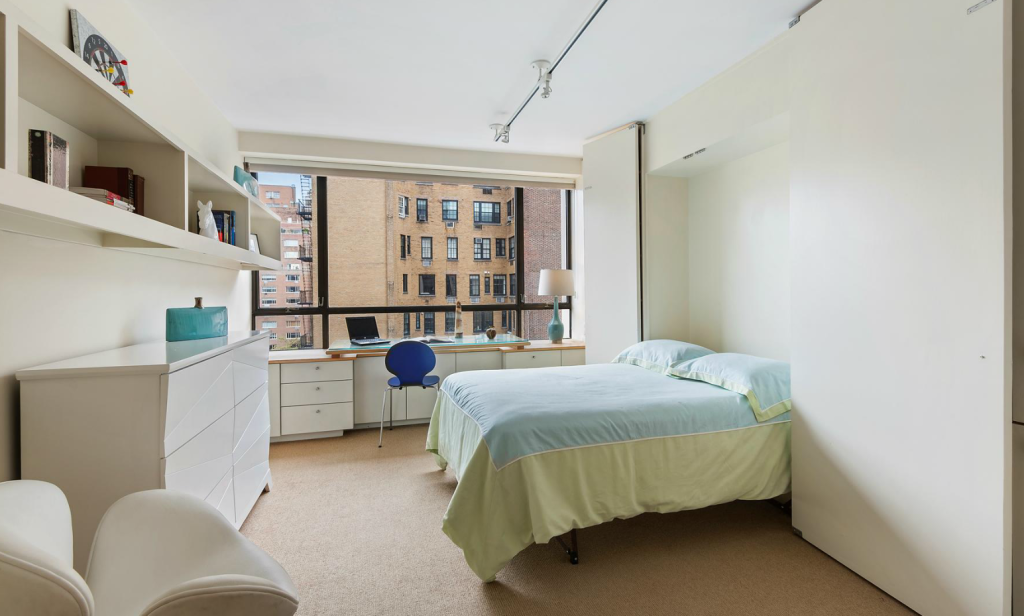 A murphy bed might not be the ideal choice for a second bedroom but we think we made it work. A fresh coat of paint, then organizing and accessorizing the shelves took us a long way.  We added bed linens, art, a dresser, lighting and an accent chair then layered the desk with suitable props to create a story.
By bringing in blues and greens, we transformed this dungeon into a bright and inviting guest bedroom. The benefit to keeping this room somewhat flexible is that, yes a family member could be here, but also this space quickly transforms into a media room, should fit the buyer's lifestyle more nimbly.
________________________________________________________________________
The Master Bedroom

The bookshelves that surround the headboard and king size bed needed to become an architectural feature of this room – and it needed to feel like a master retreat.  Hotel style bed linens, a white dresser, and an oversized white leather chair were added and the shelves were organized to make the room feel fresh and welcoming.
________________________________________________________________________
The Dining Area
Simply removing the round rug, cleaning the floors and swapping the gold chairs for white leather ones brightened and updated the dining area.  A vase with white calla lilies gave the finishing touch.

________________________________________________________________________
The Home Office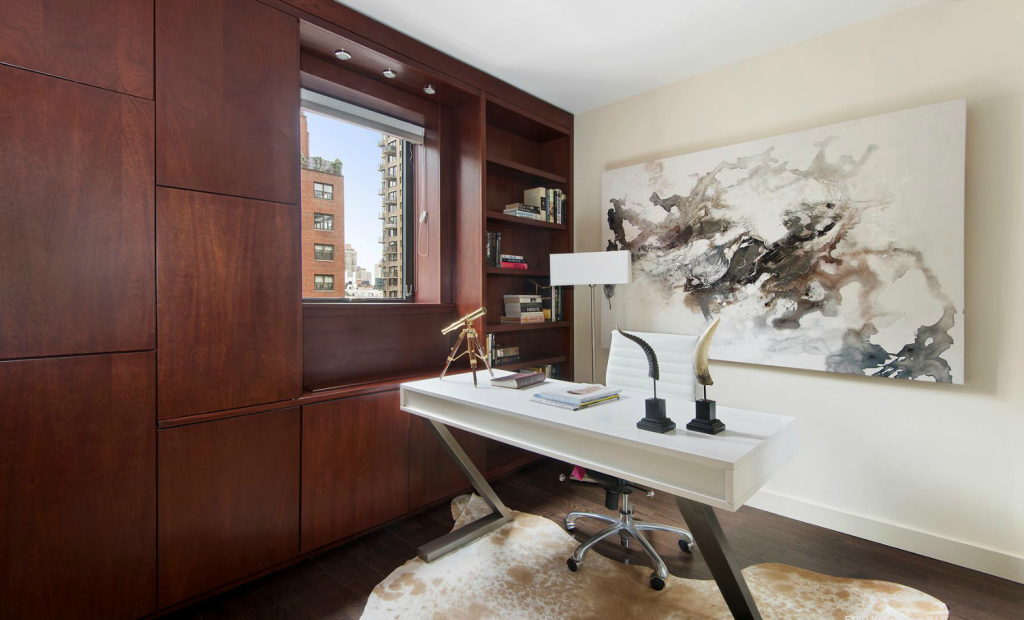 This small 3rd bedroom is the prefect example.  I repurposed the brown leather daybed in the living room, creating a separate lounging area that faces the large gold sectional.  This room was painted and a floor lamp, white desk, skin rug, large piece of art and accents were added.
Now you can focus on the rich hardwood floors and the lush, rich cabinetry that turns this home office into a library, where you can plot world domination, world piece or just hone your version of the great American novel.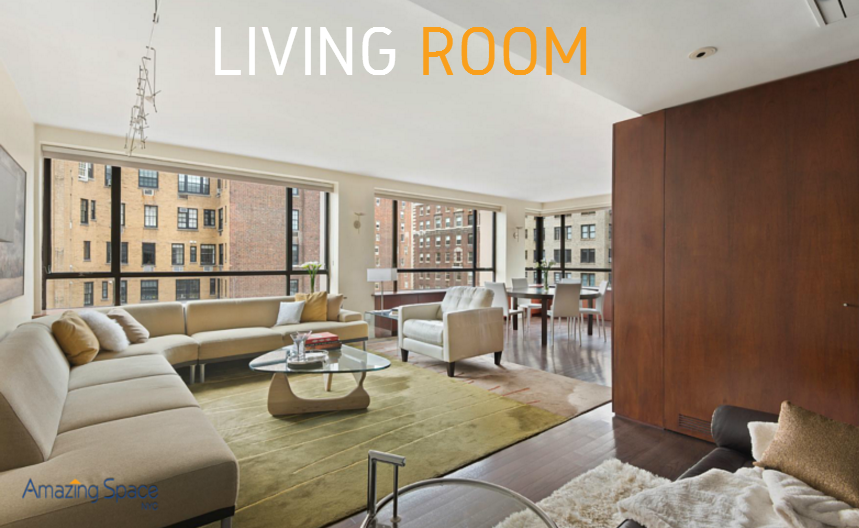 Once thoroughly cleaned, freshly painted and staged, with lighter furnishings, this residence woke up! We utilized many of the client's current furnishings – notice the brown leather daybed that used to hug the home office wall is now floating in the living room, creating an additional seating area – and augmented the apartment staging with accessories and colorful punctuation (where appropriate).
To explore apartment staging when you want to sell your co-op or condo, please call 917-428-3965 and ask for Debbie.