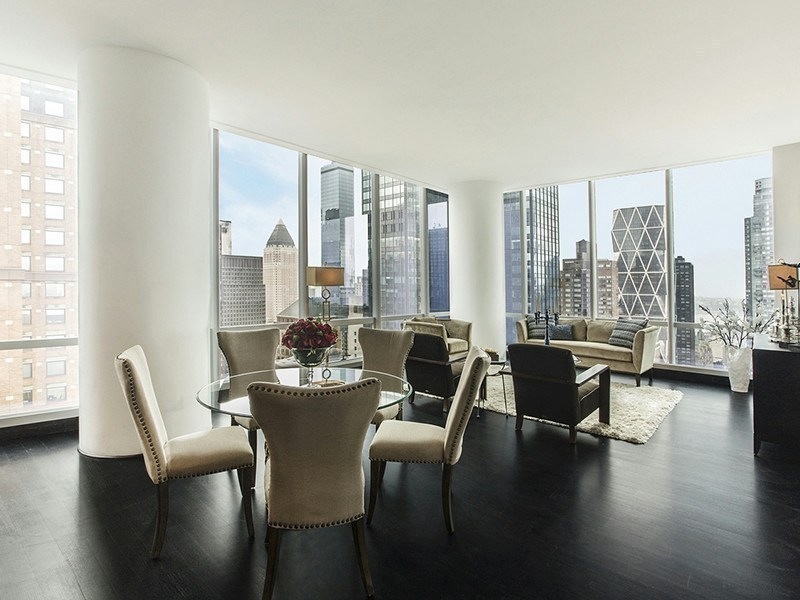 I recently had the pleasure of staging the only 2 br condo in the notorious, super hush-hush condo, One57. The home had been purchased when the units were first offered for sale. Now it is being sold at an impressive $6,000+/sq.ft.  Dramatic views are only part of the story.  Floorplans are larger here:  3,200 sq. ft in other buildings might be a 5 BR, here they are a mere 3.  The goal is ample grand space from which to admire the skyline views.
From a staging perspective, it was important to honor and work within the public areas of the building.  These were designed by Thomas Juul-Hansen, with "discreet opulence" that references the "great French modernists, such as Jean Michel Frank."  There was no choice, then, in staging with a modern elements and a neutral palette.  As usual, AmazingSpaceNYC didn't sacrifice comfort for design. Real people can see themselves living here.  The softly textured furnishings counterpoint the floor to ceiling glass with cold, concrete, stone and steel buildings beyond. Accents of blue bring the sky closer while relating to the blue, water-rippled look of the building's exterior.
Dark hardwood floors, punctuated by voluptuous columns continue the luxuriant ambience; it's hard not to become overwhelmed with the abundance of light and sky.  Dramatic finishes add further luster.   Rich zebra wood cabinets in the kitchen with black granite counters, appliances by Miele, Sub-Zero and a Zephyr island range hood.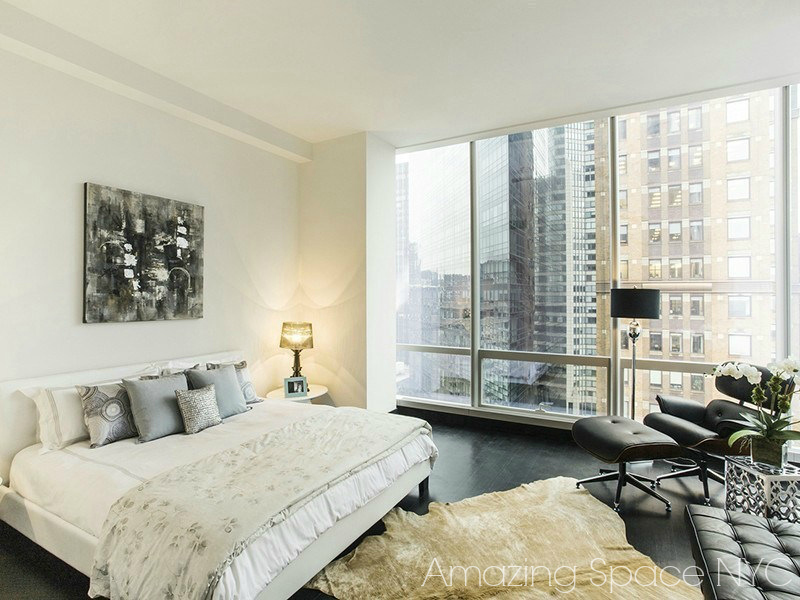 The master bedroom shimmers in silvers, grays and crisp whites, grounded by a skin area rug.  An alcove becomes a reflective area, so long as your vertigo is in check.  Here, at least, there is a real view of the river, as opposed to the old real estate joke that "partial river view" meant, "yeah, sure, if you stick your head out of the window and lean, a lot!"   Generously sized walk-in closets are part of this floorplan, of course!  Each room has dimmers and lighting control, with Valli and Valli hardware.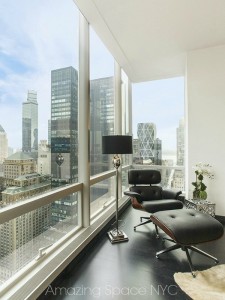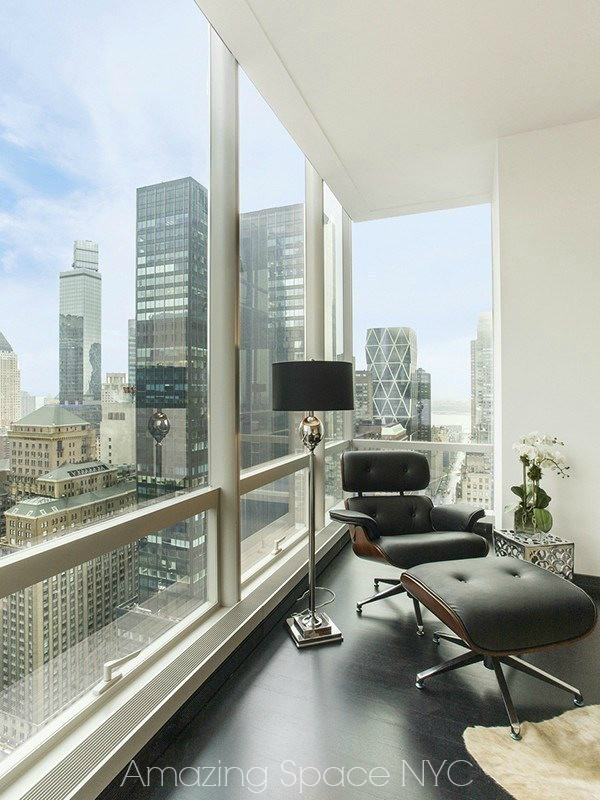 More real river views from the second bedroom create particularly stunning evening sunsets.  It is the perfect spot for a den, or home office if another bedroom wasn't absolutely required.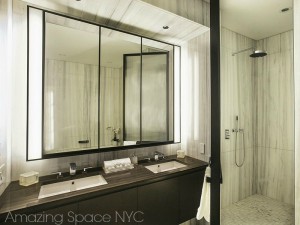 The bathrooms have the new striped marble that has quickly become popular  — Statuario — and an interesting glass countertop.  Shower and separate bath tub both has Dornbracht fixtures.  Feeling spare and Euro-chic, this space is ideal for any Master of the Universe's grooming.
Every unit has a Miele washer and dryer, FERMAX audio sound system. And so it should, for $12 million!!!
To have your home staged by noted New York City home stager, Debbie Oulvey, please call 917-428-3985