We were recently hired by a Seller to Home Stage a 2,900 square foot apartment on the upper east side.   Fabulous, right?  Well, the problem was that the apartment's renovations were never completed – and the Seller was fed up dealing with people who took her money and did not give her what she expected.
Type "A" personality selling a property she designed from top to bottom and had to sell before she could even buy a sofa.  This was my kind of client and my kind of project. High pressure.  High energy.  Go!
Home Staging continues to evolve at Amazing Space NYC into a combination of design and staging.  This is especially true for Owner Occupied properties.  This 27th floor beauty was being listed at $7.995 million.  The Seller was ready to put some time and money into the Staging but she wanted it to look "real", not staged since she and her family would be living in it through the selling process.  We had 2 short weeks to pull it together.  A contractor was hired to build and install custom radiator cabinets in 3 rooms, install closet systems and doors, finish the baseboard tile in several areas, install art lights, and paint accent walls, a bathroom, the entrance hall and ceilings.  Speakers were installed.  Unused wires hidden.  Wine racks built.  At the same time, the Seller and I were busy selecting furniture from both rental sources and on-line vendors to showcase the room sizes and uses.   We had 2 weeks . . . . and the team successfully pulled it all together so the brokers could list the property mid-March, in time to capitalize on the spring selling season.
The den / third bedroom was also a combination work area, guest room, TV room.  It was like a dorm room with a 60 inch flat screen TV at the head of the room.  This room had to have a strong presence as it is right off the kitchen and dining areas.  We turned it into a den/TV room.  We rented a leather sofa and love seat, combined them with the Seller's rug, end table, cocktail table and art, then purchased pillows and throws to complement the colors in the artwork.  We extended the room into the space between the den and kitchen by adding an Eames walnut and leather chair with matching ottoman.  Instantly, this room became one of our favorites!
The master bedroom carpet is very distinct and we needed to figure out a way to work with it, not against it.  We added a golden-hued accent wall behind a new linen-colored upholstered headboard and 2 mirrored console tables to flank the bed. A more feminine crystal and organza ceiling light fixture was installed and was complemented by the 2 crystal table lamps we also purchased.  Decorative pillows with brown, beige and warm rust tones were used to add a layer of luxury and elegance to the bed.  The finishing touch – plush throw blankets at the foot of the bed.  The master bedroom was transformed, using both rented and purchased items, from a home office with a large bed into an elegant oasis.
10 Rooms for $7,995,000 on the 27th Floor of Carnegie Hill's 45 East 89th Street.
The real "wow" factor had to occur when the buyer walked down the hallway towards the living room.  Everything in this space was carefully chosen to complement the views and the dramatic piece of original art.  The rented furniture and accessories coupled with the purchased decorative pillows and the Seller's art turned what once was an empty room (that looked rather small) into a grand, eclectic entertaining space with the most amazing views on Manhattan!
This is was a somewhat unusual floorplan for a Manhattan Upper East Side apartment. Yet the open flow set some parameter that were easy to work with once we acknowledged and adhered to them.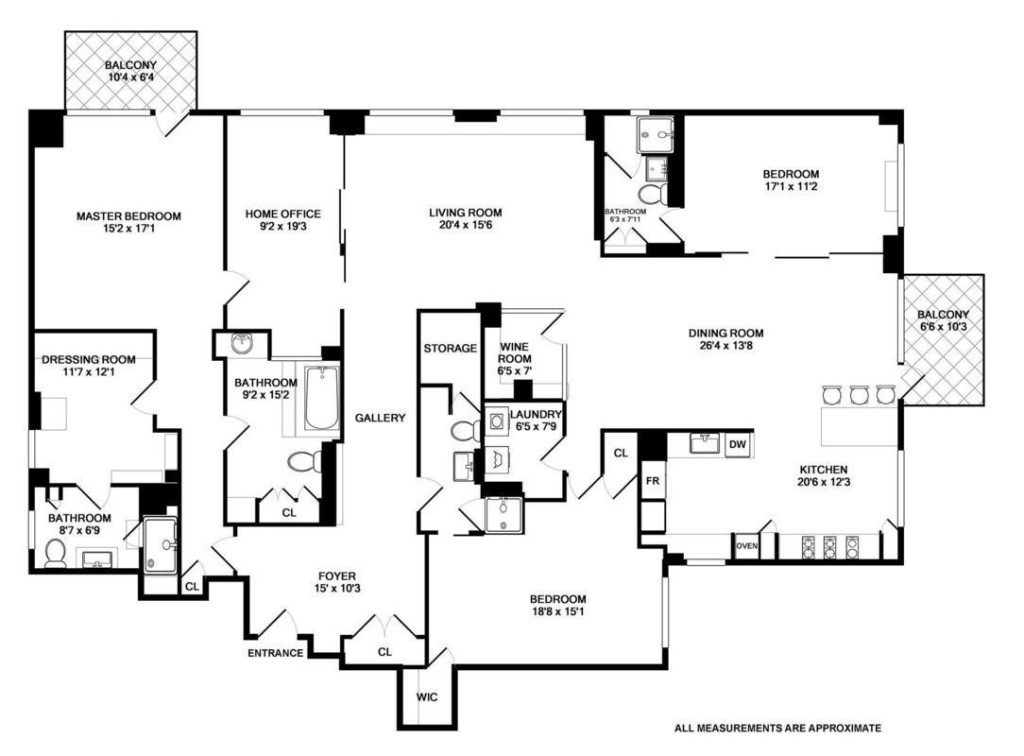 And from this experience, we were able to write down some sucesses, that you all might find useful –
Home Staging Ideas
1. Find the biggest selling feature and create interiors that emphasize and flow with it. In this case it was the views.
2. Make the crazy permanent things work in a logical, AND whimsical way. For us, the animal print carpet.
3. Use what the owner has in the most valuable places; items, like art, antiques and ….wine?  We moved the art into the most prominent spots, and added picture lights. That's how millionaires live, don't you know?! 🙂
4. Always finish up an in-progress reno. Buyers will usually overestimate repair costs and find the very idea a huge hassle.
5. Perhaps my favorite home staging idea from this project is to give yourself a deadline. While it nearly killed me to pull this together in 2.5 weeks, it forced us to be super-creative, resourceful and smart. There was no time for second guessing and the feedback from our results has been amazing. It's a great looking space now.