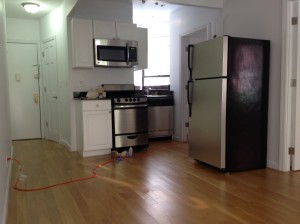 Before we started home staging a Greenwich Village 2 BR unit we went to see it and get the lay of the land, so to speak.  This 2 bedroom on the second floor of a quaint walk-up building left buyers scratching their heads. Immediately welcomed by a massive refrigerator ion the middle of their living room, the living space looked teeny and boring, not at all what a hipster who wants to live in the heart of the Village wants to see when they open the front door.
We got to work.  We transformed the place by adding color and furniture tailored to the space and the target demographic. By adding a small bar height table and stools we successfully created a dining area that takes some of the attention away from the refrigerator's location.
You might think that we chose red as our accent punch because Fall is on its way and our instincts turn to seasonally warmer colors. In actuality, my inspiration was this fabulous chest which would be considered a Must Have by any generation, and the likely demographic for this unit.
The 2 bedrooom, 1 bath apartment, what used to be called a 4, is listed by Jeffrey Wachtenhiem, with Town Real Estate.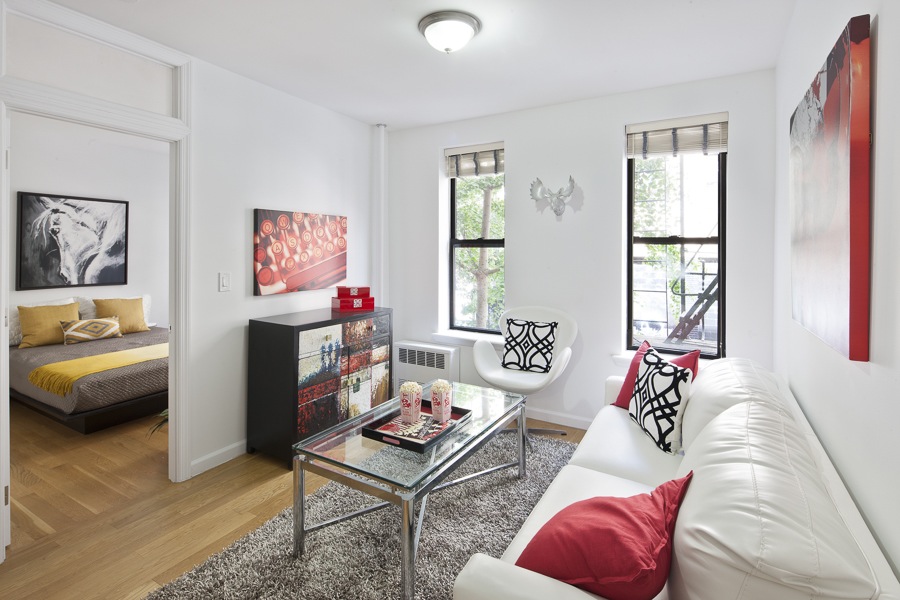 Both bedrooms lack a closet, a fundamental flaw in the room designs. By placing a dresser in each room, in the location where a closet or a large wardrobe unit could easily be placed, we allow potential buyers to see that this situation can easily be overcome. We staged the second bedroom to be a den/guest room using a futon bed and colorful art and pillows to jazz it up.
Asking $965,000. Here is the broker's description:
Incredibly charming and perfectly located, this two bedroom home is situated on Prime Leroy Street in the heart of Greenwich Village / West Village neighborhood. A RARE offering, this sponsor unit requires no board approval and is ready to be moved into. This home features a renovated windowed kitchen, windowed bath and the perfect Village location. Just one flight up in a charming, prewar walkup building with beautiful iron work, this is one not to be missed.   Just steps from at least 50 bars and restaurants, multiple train lines and incredible eateries such as- Murray;s cheese, Faiiaccos, Joe's Pizza and so much more. 
  __________________________
For more information on staging your NYC home for sale,
please call 917-428-3965 and ask for Debbie.