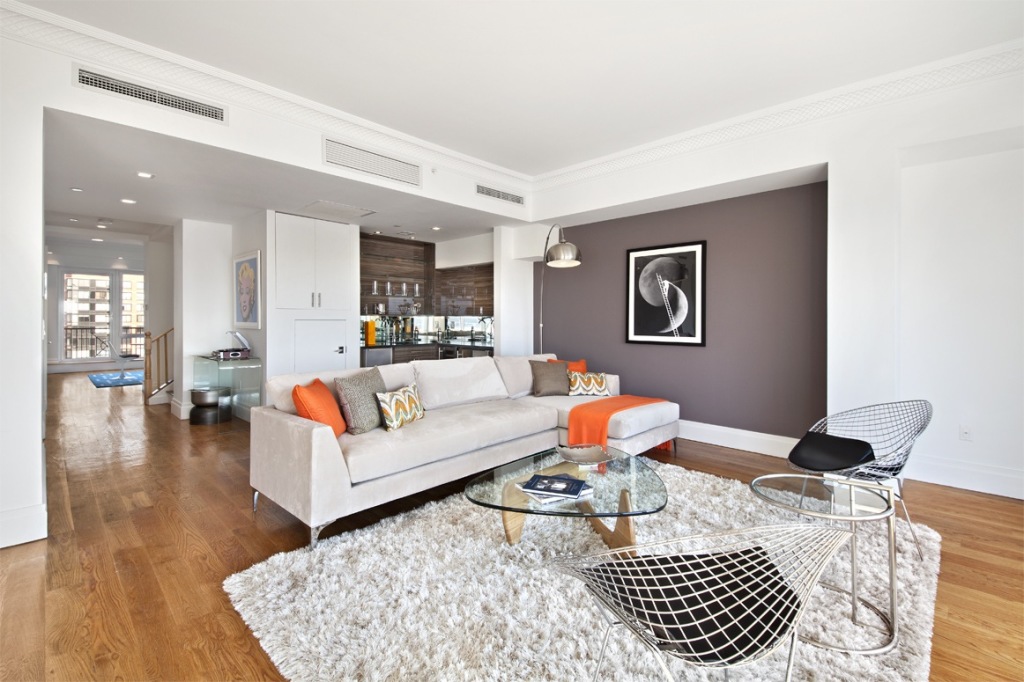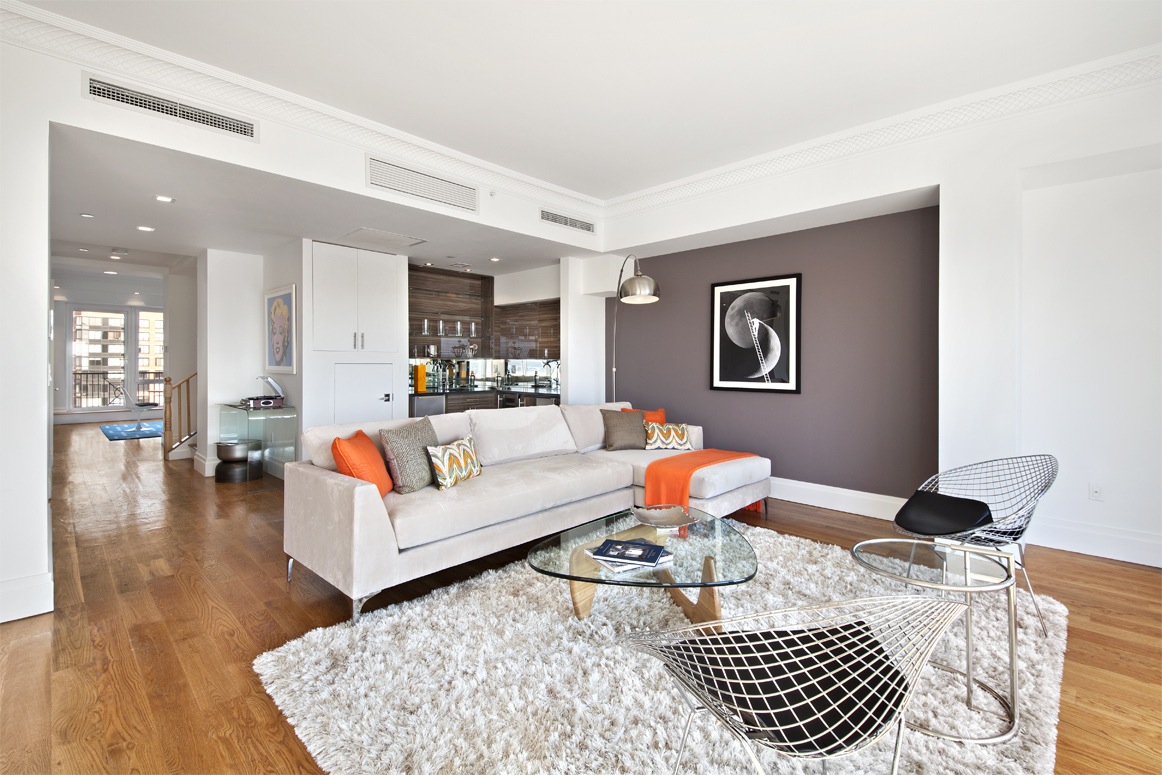 This Penthouse apartment on the Upper Westside was a giant white box that offered a lot of space . . . . and white walls . . . .  and space . . . .  and more white walls.  It lacked sex appeal, and did not offer  any ambiance.  Working with a very limited budget, the marketing team decided to stage the main living/entertaining space in an effort to create a WOW moment as soon as the elevator doors opened on to this floor through showcase.  The team wanted a design plan that was more downtown – vibrant and loft-like. More and more younger buyers are recognizing the value of the UWS (as is written in this recent  New York Post article, and the Sales and Marketing team wanted to capitalize on the movement north.  In order to capture this target demographic buyer, the Penthouse needed a more contemporary aesthetic, not the stodgy "Old New York" décor that is so familiar in the UWS pre-war apartments.
We added an accent wall of deep mocha-gray accent wall in the living room, then accessorized with orange for downtown punch. The accent color carries through to the oversized terrace, making the living area feel twice as grand and without obstructing any of the river views.  Gorgeous!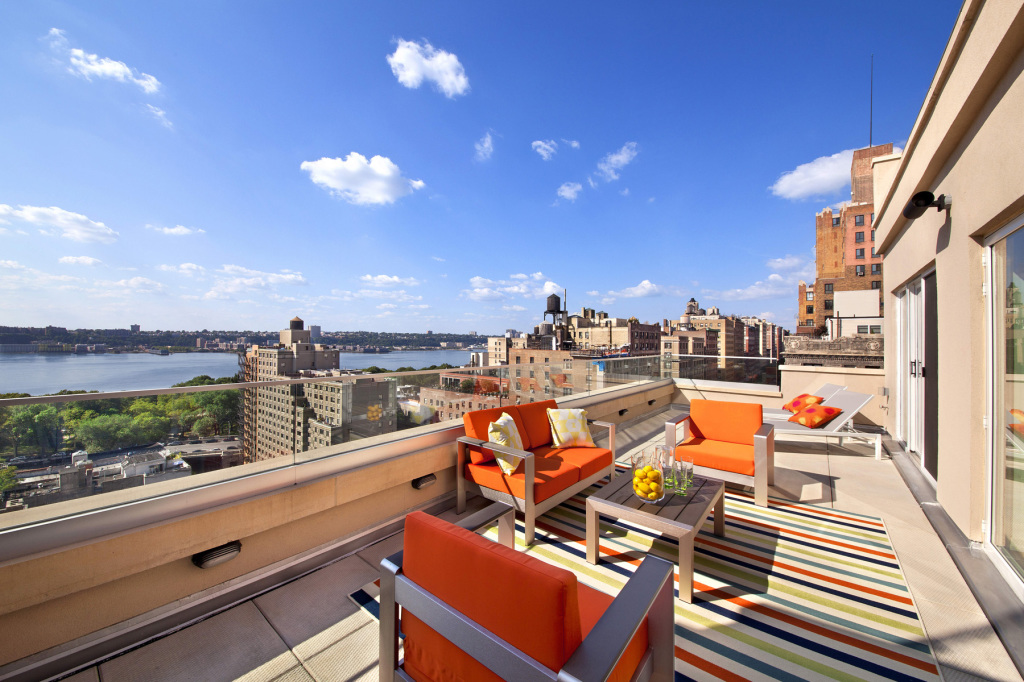 Here's another view of the living and entertaining space.  Notice the reading nook just around the corner, which also shares the spectacular view!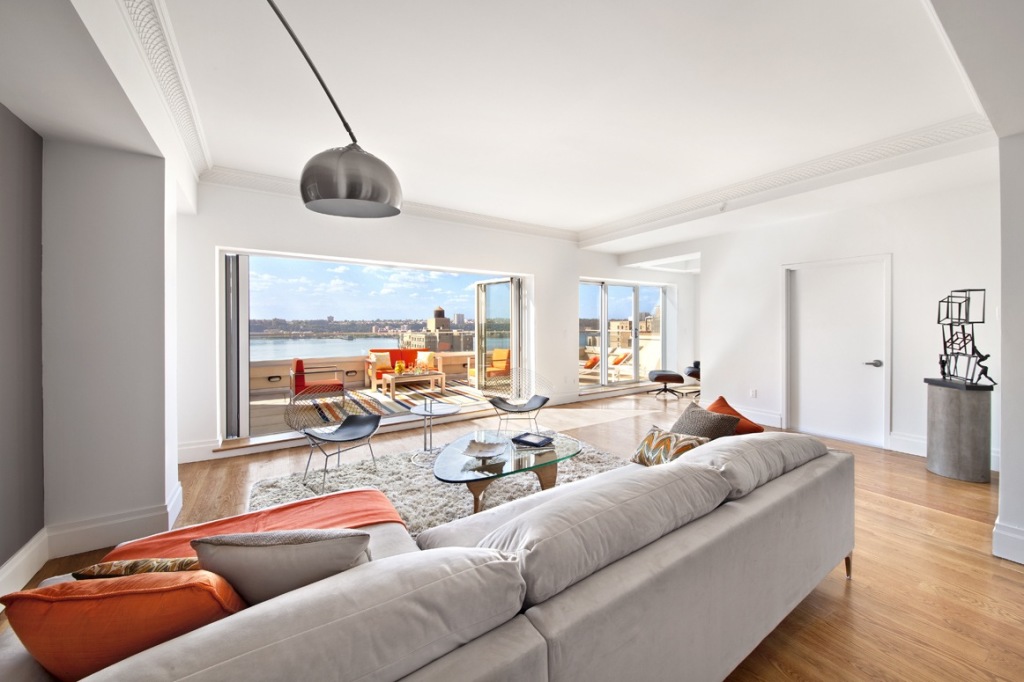 Adding a cheerful turquoise rug to anchor the oversized dining room, we brought the river view to the other side of the apartment.  That Hudson River view is a feature we want the buyers to remember as they flow through the unit.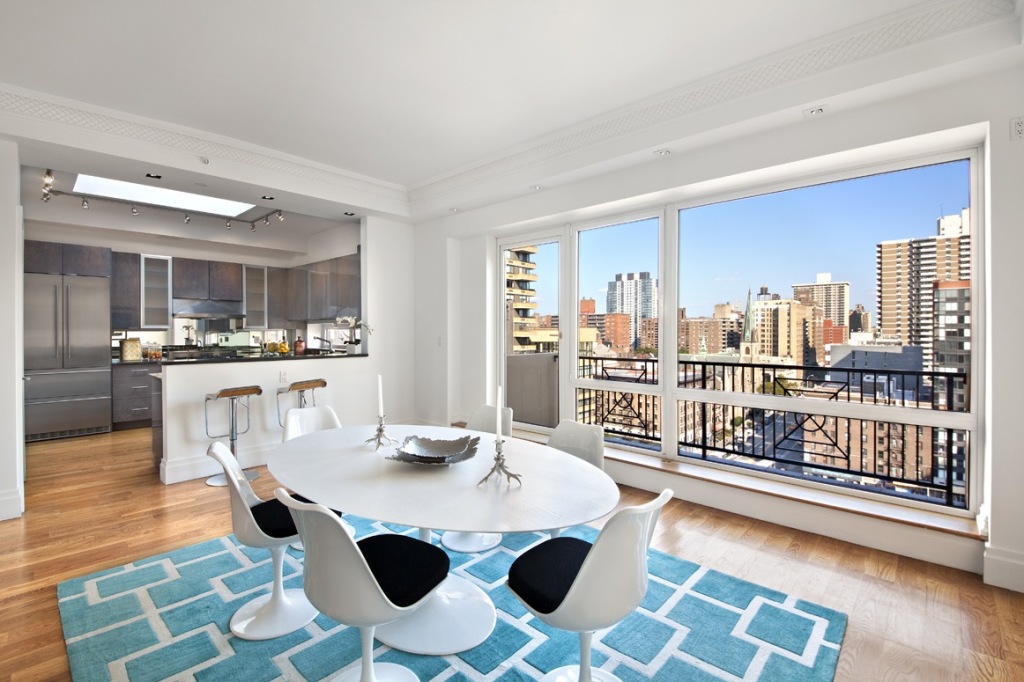 The blue and orange color combination is visible outside as well as inside the Penthouse, like the bricks in the surrounding buildings juxtaposed against the sky.  This color combination has several advantages:
 It is modern and bold but also cheerful
The colors are recognized by many as the most eye-catching colors for online purposes and will draw in the buyers who are clicking around for inspiration and prospective homes.
[According to Basic Color Theory] Being opposites, and therefore complementary on the color wheel, blue and orange imply maximum stability – an imperative in New York City Real Estate investing (especially when the list price is upward of $7 million). The color combination creates harmony, perhaps because the colors are related.
This palette also suggests that a design professional has been employed, a very useful tool for staging high-end homes. The indication that the services of a professional interior decorator or designer were utilized increases the aspirational appeal of the property.  Buyers not only get to enjoy the design suggestions the Penthouse offers; they understand that this is the lifestyle they will enjoy when residing in this floor-through Penthouse with sweeping Hudson River views.
This staged penthouse has been just released and is getting great feedback.
To have your penthouse staged by Amazing Space NYC, please call 917-428-3965, and ask for Debbie.  To drool more, here is the floorplan –>