Recently, I read an article about Staging and Photo Styling that contained some very useful tips for preparing a room for professional marketing pictures.  Real estate experts and professional stagers agree that the first impression is often the last impression so the marketing photographs need to be eye-catching and show the property at its pinnacle.
THE DILEMNA
Should a Stager design and install a staging plan based on the angles from which the photographs will be taken or on the buyer walk-throughs?   Or is there a way to provide the best of both to a seller?
THE ANSWER
The answer is yes, and very simple.  Hire your stager to be on-site for the photo shoot.  Working directly with the professional photographer and seeing the room through the camera's lens, we often rearrange not just accessories, but rugs, lights and the furniture in order to create dramatic and appealing photographs that will be posted on the various websites and included in tear sheets.  Maybe a rare photographer would see it as interference, but given the importance of online images as the start point for buyers, stagers should attend the photo shoot.
In a Penthouse Unit in Long Island City, the cocktail table, side table, accent chairs, sofa, rugs and accessories were all rearranged for that "wow" picture.  After we relocated the furnishings to just a few feet from the wall of windows (which was the location of the camera for this fabulous shot of the entertaining space), we rearranged every pillow, book and accessory – even in the den on the opposite side of the fireplace – in order to maximize the impact of the photograph.   Two accent chairs and table were removed from the seating arrangement in order to open the view into the dining area and out to the terrace.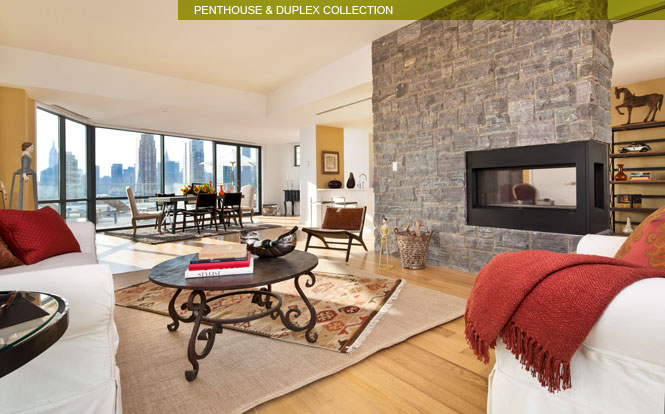 When the listing brokers brought buyers into this penthouse, this was the furniture plan that greeted them.  Look closely at the coffee table and the sisal rug with the kilim overlay.  You can see how much we rearranging we did for this shot (along with chair substitutions along with a prop and accessory shuffle).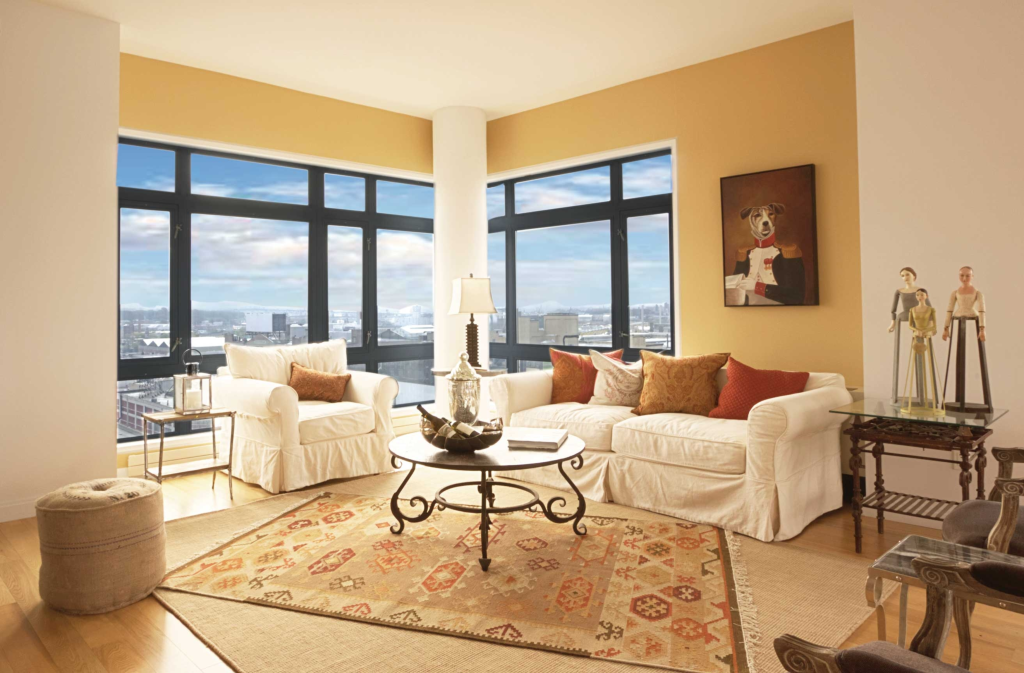 As another example, this is what happens when I'm not there -below- look at the rug! It's a simple detail that's been overlooked; the camera preview square is small, I get it. Yet this simply would not have happened had the stager been onsite. Just have us there, even you can't bear the interference of a photo stylist!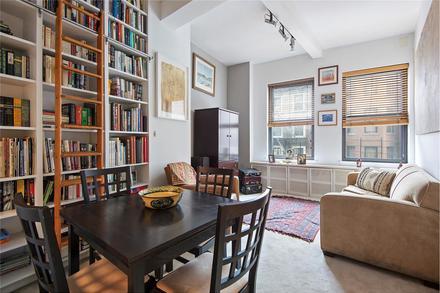 It truly is worth the one or two hour investment to have your Stager on site for the photo shoot. You have one chance to make that first impression and to capture and present the money shot.
Photos courtesy of Evan Joseph.