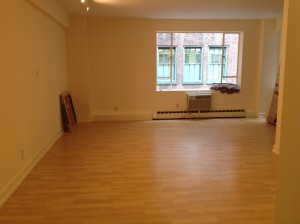 #1  This is what it looked like:-
#2 The asking price is $524,000
#3 The maintenance alone is $1,255 a month and only 50% of it is tax deductible.
#4 The apartment "is a back apartment with no view"…and faces North.
#5 To anyone OUTSIDE of NYC, this is absurd!!  But this is New York City – the heart of Greenwich Village in a well-run,  doormaned co-op.  And pets are allowed.
What to do?
We took advantage of the main space to add a sectional and desk. With varying textures and a simple pallet we achieve a feast of visual interest… which compensates for lack of space. From a glass topped table with smooth steel legs, to a textures sofa with shaggily soft pillow, the "living room" is a stylish spot to read, entertain or watch tv.  There doesn't need to be a tv hang on the wall for the buyers to easily recognize where one would go.  An open shelf, free standing, is a great way to delineate a space without sacrificing light.  By NOT filling the shelves with glass, but rather interesting silvered sculptures, the divider doesn't unnerve  buyers with a "don't bump that or you'll be owning the crystal fragments". The originality suggests a luxurious pied-a-terre or perhaps a first-time homeowner's private lair.
There are possible buyers now. As opposed to a dirty L-shaped box that competes poorly against New Construction, no matter how fabulous the location.
Home staging does more than solve the design problems. It illustrates the lifestyle for a series of potential occupants. Notice that the total lack of view isn't covered up.  There are no sheers, even, on the windows. What you see is what you get. And what you get is something quite practical that can be as serene or as cosy as any discerning New Yorker might want.
For NYC home staging solutions, please call 917-428-3965 and ask for Debbie Oulvey.