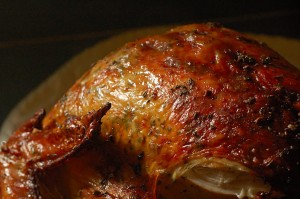 Thanksgiving is, by far, my favorite holiday.  My Italian side of the family gathers together in our pre-war upper west side apartment for a full day of food, wine and togetherness.   Some years we have hosted dinner for upwards of 20 people – in a dining room that is 14′ wide by 16′ long!  Being a designer and a NYC home stager has its benefits when it comes to spatially planning a sit down dinner for 20!  Also, being good friends with your neighbors helps when you need 2 ovens for all of the sides and an extra refrigerator for the turkey to brine overnight.
This year's menu includes a potato leek soup to start accompanied by a green bean and caramelized onion salad.   The main attraction – an apple spice brined turkey (so moist and delicious, I highly recommend it)  – is served with apple stuffing and roasted squash.  Mashed spiced yams are a family favorite and always find a place on the table.  To satisfy our sweet tooth we will have apple pie (a la mode, of course), pumpkin chocolate. chip cookies and a chocolate truffle cake from Ferrara's (courtesy of my daughter's school fundraiser.)
We have much to be thankful for at Amazing Space NYC.  This has been a record year.  We will finish up 34% (or more) over last year, both in terms of gross billings and net revenue.
Staging has finally become accepted and, in some cases, mandated by New York City  brokers.  Putting a property on the market that is empty or full of personal clutter is frowned upon by both buyers and brokers.  However, the spectrum is wide with respect to the quality and goals of New York City stagers.   ASNYC continues to be recognized as the market leader in aspirational and inspirational Staging installations.
Our belief that a staging design must allow buyers to connect to the property is one of the reasons our business has grown by 34 per cent this year, setting a company record for both gross and net revenue.  We bring Interior Design to the forefront of every project we accept. I say accept, because we turn down a project if the budget or parameters won't allow us to present a final product we think works, one that is characteristic of our portfolio, likely to succeed the way our others do.  Loyal relationships with brokers and developers, dedication to detail and follow-through combined with only quality accessories. We are ruthlessly disciplined about investing only in quality rugs, lighting, accessories, linens, artwork and lifestyle accents that create a home reflective of the neighborhood, the price point and the potential buyer.

Buyers and brokers are very impressed when they walk into a property that was Staged by our design team. The greatest compliment we continue to receive is that our properties do not look "staged", they do not look fake.  Buyers and brokers agree that ASNYC presents to the public elegantly appointed and meticulously maintained homes.  On average, a property that was Staged by ASNYC sells at 94% or more of the ask price. In the summer of 2013, 4 of our staged properties went into bidding wars after the first open house.  All sold at or above ask.